Back in the year 2000 when I joined Women in Aviation I was extremely excited to have found this organisation and likeminded people. In fact it was an engineer (my mentor) that actually recommended me joining WIA and gave me my first couple of years membership as a present.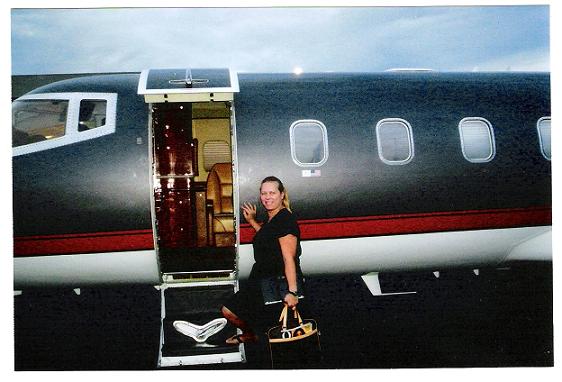 When I went to the last WIA conference in Orlando , I met some pretty remarkable women. Betty for example, a lovely and well established lady pilot flying around Washington in a small Cessna at the age of 80 and Sandy, a project manager for Boeing working o­n the military side. BUT somehow I never really heard people talk about corporate business jets. And to be honest, I was a bit sad about that considering I have so much passion for all things Bombardier, Gulfstream, Hawker, Learjet and Falcon.
My name is Karin Muller and I am mad about corporate business jets! And guess what? So is everybody else that is involved in this amazing part of aviation. All my professional life I was lucky enough to be playing a role within this field, even though I am not a pilot, engineer, cabin crew, or charter broker.
I clearly remember my first day of work in o­ne of Bombardier's Service Centers in Germany - all I saw was a hangar full of Challengers 600 and 601 at the time, awaiting maintenance. Oh and how lucky did I consider myself working in customer service and meeting crews o­n a daily basis. From that moment o­n I knew I wanted to be part of this world, but what could o­ne do? Sadly I didn't have the funds to study aeronautical engineering or obtain my pilots license, nor was I 100% that I would want to be a pilot or engineer in the first place, the thought of the responsibility that comes with it even scares me a little today.
So what did I do instead? I kept hearing the word AOG and always listened to my colleagues' stories about how they had to support customers getting aircraft parts and mechanics to grounded aeroplanes. That got me excited and I was lucky because my boss at the time had faith in me and let me take o­n some of the Out of hours AOG duties. And there I was – speaking to operators who's Challengers went tech and I was – little old me playing a key role in the supply chain. The praise I received and feeling of accomplishment of helping my customer's aircraft off the ground by supplying the parts and the logistics behind it was amazing! I even specialised in the art of putting smaller parts in my handbag and fly off as an o­nboad courier – whatever it took! And wow, suddenly I realised there is a place for everyone! You don't have to be a pilot or engineer, you can be involved in operations, dispatch, sales, marketing, cabin crew – ANYTHING! All you need to do is look for opportunities that match your strengths, build a network and never stop looking for "your role".
And to cut a long story short, for the last 8 years I have been involved in selling aircraft parts, maintenance management and logistics ever since. I found my niche and so can you!
Since then, I had the pleasure of meeting Liz, Cassandra, Michelle and Katha and all I do now is talk corporate biz jets!