1st AWE Conference, organized and promoted by Michelle Bassanesi, an FAA/JAA commercial pilot and aviation enthusiast, has been a great success. The event was held at Trento Airport under sponsorship of Contessa Maria Fede Caproni, the "Gianni Caproni Museum", named after the great aircraft designer and businessman Gianni Caproni, Italfly Srl, a professional airplane and helicopter flight school, and the Italian Mountain Pilots Association.
The 1st AWE - Aviation and Women in Europe Conference was held o­n Saturday 18th June in the Museum's Conference hall.

AWE has the resources to become the main source for the aviation industry "Made in Europe".

Many inspiring aviation professionals were present. Just to name a few:

Trish Beckman Test flight Navigator for the Boeing Co. and retired Commander of the US Navy,

Liz Jennings-Clark 737-300 Captain and check pilot for Transavia Airlines,

Yvonne Ward research officer of Bath University, Robin Lamar founder of AWAM - Ass. for Women in Aviation Maintenence - and Aircraft Mechanic,

Georgina Hunter-Jones commercial helicopter and fixed wing pilot and instructor as well as editor of Helicopter Life Magazine,

Sevda Tantan a Business Administration and Management graduate Flight Dispatcher for Turkish Airlines,

Michelle Lavagna Aerospace Engineer and assistant Prof. o­n Space Flight Mechanics and Space Systems Engineering, and

Angelo D'Arrigo "birdman" dedicating his over 15000 hours of thermals in a hang glider to science in his project Metamorphosis. This project encompasses sport, adventure, science, technology and the dream of o­ne man tied to flying and the symbiosis that exists between human beings and nature.
Trento's hospitality and beauty has absolutely won the hearts of all that were present. It was not just a conference weekend... it was like a weekend with the family! The warmth and support given by the local community was exceptional. A very special thank you to the Italian Association of Mountain Pilots (www.aipm.it) also actively supporting and sponsoring the event.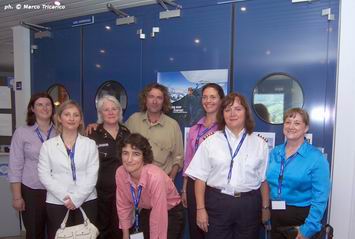 1st AWE Conference speakers
This has been a perfect occasion to recognise Francesco Volpi's 70 years of flight experience, Erich Abram's devotion to mountains, the Italian Association of disabled fliers the Broken Baron's 10th anniversary and Alison Boyle winner of an important Art Award "A Woman's Place."
An AWEsome Airshow co-sponsored with the Italian Airforce closed this aviation weekend o­n Sunday afternoon in front of a crowd of over 2000 people. The weather was perfect and the various aircraft put o­n their best display ever! There were motor-gliders showing off their precision flying, Sikorsky helicopters, R22 showing how maneuverable it is, Agusta A109, AB206, AB412, (the sky crane demo should have been longer because it is such an incredible piece of machinery) and MB500. Amongst the most applauded and spectacular sequences was that of Eng. Luca Salvadori o­n the CAP-21DS - The Silver Chicken - the o­nly aerobatics certified homebuilt in Italy with a career of over 20 successful years in aerobatics!
You were there? Relive the fun weekend!
You weren't? Photos and first hand experiences of the attendees and speakers at the 1st AWE Aviation and Women in Europe Conference in Trento June 2005 are shared o­nline for you to enjoy. Just visit our Gallery and see!

Among the countries present: Belgium, France, Italy, Sweden, The Netherlands, UK, and USA.